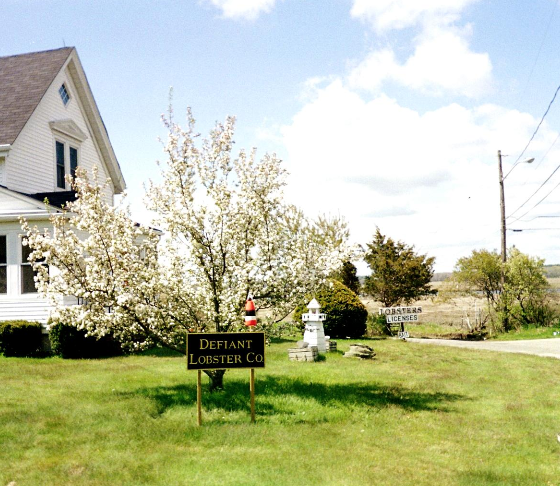 At a scenic spot overlooking historic Nudd's Landing, a quiet corner of Hampton welcomes you. Our riverview home and business is the oldest lobster pound in town, open since 1981. The Tilton family has been a part of the Seacoast since the 1600's
Defiant Lobster Company was established in 1981 by Peter, Joan and Peter Tilton, Jr. During the 1980's, both Petes fished for lobsters aboard the DEFIANT and later SEA EAGLE, while Joan ran the business ashore. As the business grew too busy for one person to operate, it was decided to sell the big boat in 1990. Pete Sr. has a smaller boat now and runs a modest string of traps, while Pete Jr. manages the business on shore. We buy all of our lobsters from local New Hampshire fishermen and some from Maine when demand dictates. They all taste WICKED GOOD!

You can pick up top quality Maine steamers and oysters from Spinney Creek Shellfish here.
If you want to do some fishing, we have a fully stocked bait and tackle shop.
We'll set you up with a clamfork and pail if you want to dig your own clams. You can even rent a fork if you prefer.

We sell our own vegetables in season.

We grow Christmas trees on the property for folks who prefer to cut their own. You can put a tag on one and come back later to cut it if you like.